Okay mari cerita straight to the point. Aku memang takde anak lagi tapi conversation pasal macam mana nak mencorakkan anak selalu ada antara aku dengan Hilmi. Kitorang kadang kadang jadi risau tengok sekarang ni makin banyak teknologi, makin banyak pula negative influence didedahkan pada anak anak. Kan ramai parents sekarang bagi anak anak main tab & browsing. Ye la untuk diorang main interactive games online, tak pun buka YouTube untuk pasangkan video Didi And Friends. Tapi kadang kadang tu tiba tiba ada ads tak senonoh yang keluar. Takpun, search benda lain, benda lain yang keluar. Benda tu sometimes kita rasa nampak macam remeh tapi kalau diperhati, tak elok tau. Lagi lagi bercanggah dengan apa yang diajarkan dalam Islam.
So, macam mana nak tegah semua ni dari melarat?
Okaylah. Teknologi kita tak boleh stop. Takkan kita nak jadi outdated, taknak ikut perkembangan teknologi, taknak guna internet ye dak? Ketinggalan la nanti. Jadi , cara terbaik ialah untuk 'kawal' cara penggunaan internet kita. Lagi mudah kalau kita boleh kawal kan cara anak anak kita gunakan internet juga.
Let me tell you how.
Haritu aku pergi launching web browser terbaru, SalamWeb. Ingatkan browser ni macam web browser yang lain. Tapi rupanya, SalamWeb ni tak terhad pada setakat web browser je tapi rupanya ada macam macam lagi.
Antara features menarik yang boleh kita jumpa di main page SalamWeb :
SalamNews
SalamSadaqah
Qibla Compass
SalamChat
Waktu Solat seluruh dunia
Petikan Quotes of the day
Cuaca
Laporan Traffic
Satu feature menarik pada SalamWeb yang sangat membantu dalam usaha kita nak 'kawal' penggunaan internet ialah dengan menggunakan setting SalamProtect. SalamProtect ni berfungsi dengan cara tagging. Contohnya kita ada go through internet lepastu terjumpa content yang tak elok, kita boleh 'tag' kan URL/Webpage tu sebagai :
"Report As Inappropriate"
Dengan cara ni, kita dapat bantu pengguna internet yang lain daripada terjumpa content content tak elok ni. Kira macam fardu kifayah juga la untuk kita. So next time, kita dapat la avoid daripada same/similar webpage tu terkeluar bila anak anak atau kita tengah browsing.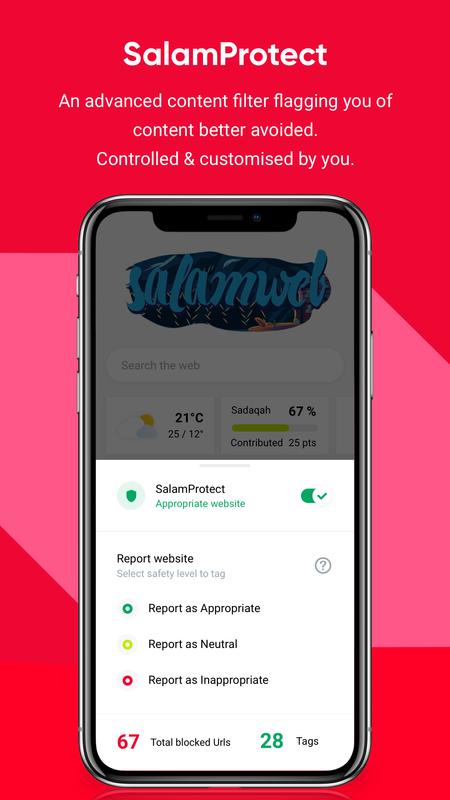 SalamWeb ni memang sangat Muslim friendly dan diiktiraf sebagai web browser pertama yang shariah compliant di dunia! Aku sekarang ni memang dah letakkan SalamWeb dekat main navigation. Nak search apa apa guna je SalamWeb. Sebab results yang keluar pun lebih kurang je macam yang ada di web browser lain cumanya SalamWeb ni macam berfilter sikit. Ads web berunsur pornografi dan judi tu dapat ditapis.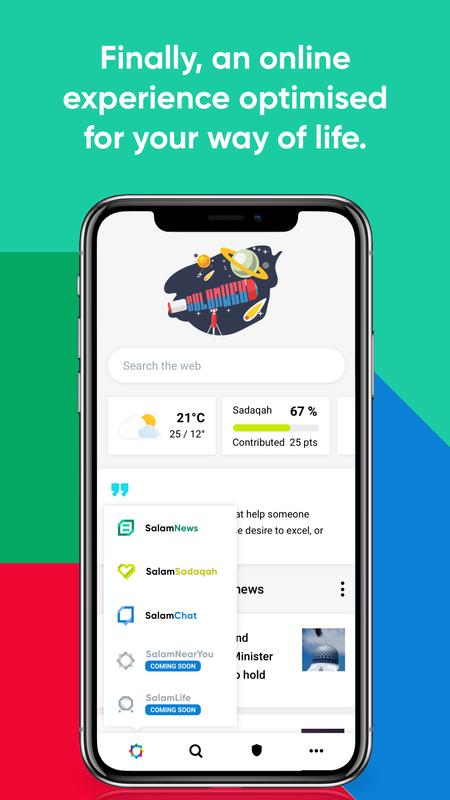 And another good news, dengan menggunakan SalamWeb, kita sebenarnya
menyumbangkan kepada tabung
SalamSadaqah
yang mana dana terkumpul akan di salurkan kebadan badan kebajikan terpilih. Untuk tahu progress dana tu, boleh tengok di tab
'SalamSadaqah'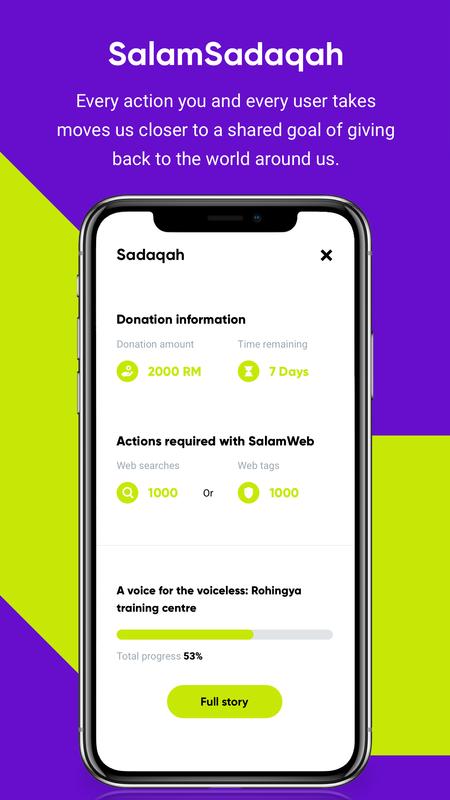 Masa aku bercuti dekat Singapore, SalamWeb ni memang membantu especially untuk tahu waktu solat & arah qiblat . Tak pening pening nak install sampai 2,3 apps berbeza untuk dapatkan features yang sama. Masa nak cari arah qiblat tu pun takpayah nak calibrate bagai sebab akan locate ikut current location kita. Wuuu canggih!
Nak install SalamWeb ni senang je. Now available on both Google Play Store & IOS App Store. Search je 'SalamWeb' confirm jumpa! Install sekarang tau. Oh dekat Mac & PC pun ada juga. So sekarang semua gadget, dan device korang pastikan ada SalamWeb browser okay?